DreamCatcher Agile Studio is an Integrated Agile Suite that helps you visualize your product features during the Agile software development process, empowering business teams and product managers to define and guide the product feature requirements.
Process Workflows

UI Screen Details

UI Widget Details

Business Rules

User Story Playback
Design Patterns

Integration Points

Integration Interfaces

Interface Data Fields

Design Documents
Automated Task Creation

Automated Task Estimation

Fine-grained burndowns

Visual capacity planning

Project dashboards
Automated Test Case Generation

Defect Management

View defects on Requirements

End-to-end traceability
DreamCatcher is your single integrated toolkit for Agile software development!
DreamCatcher is your single integrated toolkit for Agile software development, with a number of handy tools at your fingertips that are fine-tuned for an Agile environment. Because these tools work "side by side", DreamCatcher can maximize the synergies between them and save your teams valuable time and money. More importantly, DreamCatcher helps reduce execution risk and enables innovation in your teams, and helps create an engaged workforce.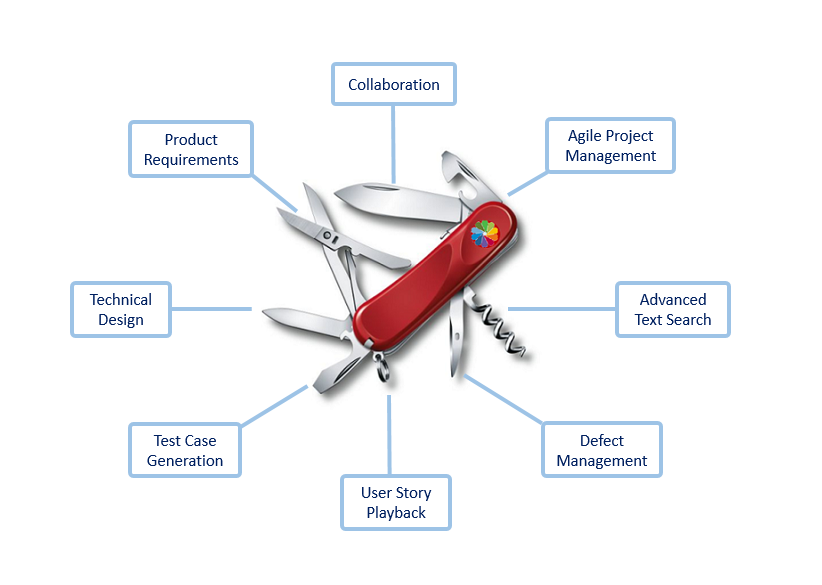 DreamCatcher is Ideal for Multiple Types of Projects

Whether you are developing a custom application or implementing a packaged software product, DreamCatcher can help you succeed in Agile software development, by reducing your time to market and lowering your implementation costs. When implementing a packaged software product, DreamCatcher can help you manage the requirements for UI configuration as well as Integration Points.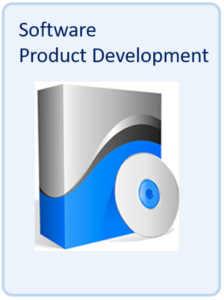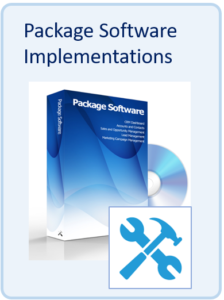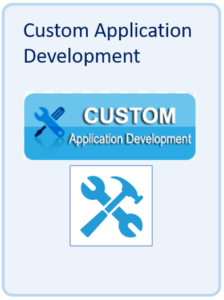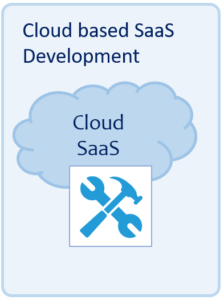 Manage Product Requirements Visually!

DreamCatcher is visual, intuitive and easy to use, allowing your business teams and product managers to lead the product features requirements definition, helping your products be better aligned with market and customer needs. You define product feature requirements visually, instead of writing documents, allowing your teams to focus on delivering more working software.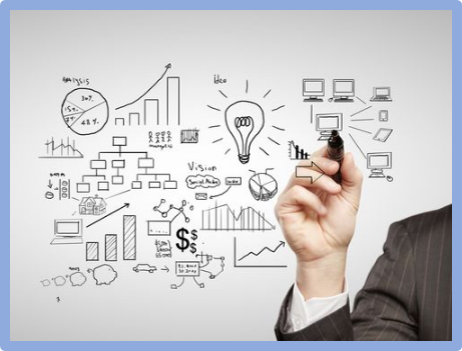 Define Product Requirements visually using process workflows.




Define UI screens visually using intuitive and easy to use tools, no technical skills required!




Define business rules of your product using a structured approach that results in consistency and accuracy.




Define integration points and interfaces (APIs) visually, no technical skills required!

Automatically generate up-to-date requirements documents in MS Word format with all product requirements data.



Manage Technical Design Visually!

DreamCatcher allows you to re-use and standardize design patterns across product features and across products, leading to increased consistency and accuracy. You can automatically document the technical architecture of your products accurately, without writing a single document! Now that is a good way to save time while improving your level of documentation!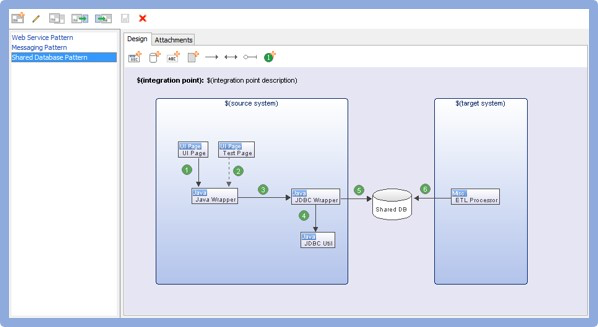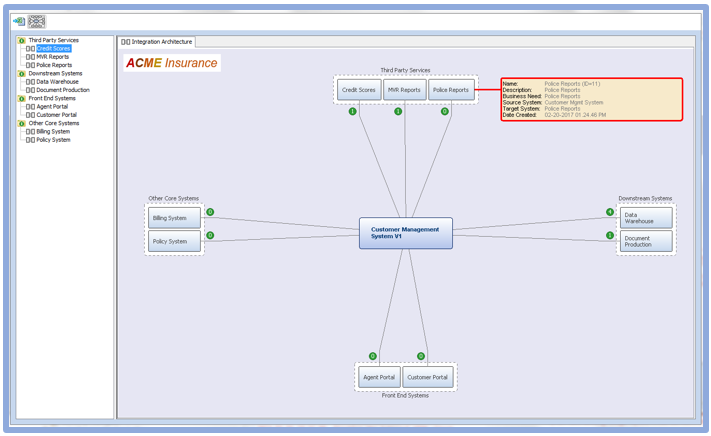 Define and re-use from a centralized library of architectural patterns.




Apply and re-use architectural patterns for consistency.




Automatically generate design documents for product features and integration interfaces (APIs).




Define Integration Points and Interfaces visually which helps improve visibility and communication.

Automatically generate Enterprise Integration Architecture diagrams that are always up-to-date.



Engage Your Employees With Audio-Video Playback!
DreamCatcher introduces an innovative feature that will dramatically improve how product feature requirements are communicated & understood by your team. This exciting new feature is sure to bring more fun and creativity to your work environment. It is also an excellent way of generating training material automatically from your product requirements, and for conducting sales demos to your customers. If you have remote or distributed teams working on your products, this is a great way to get everyone on the same page!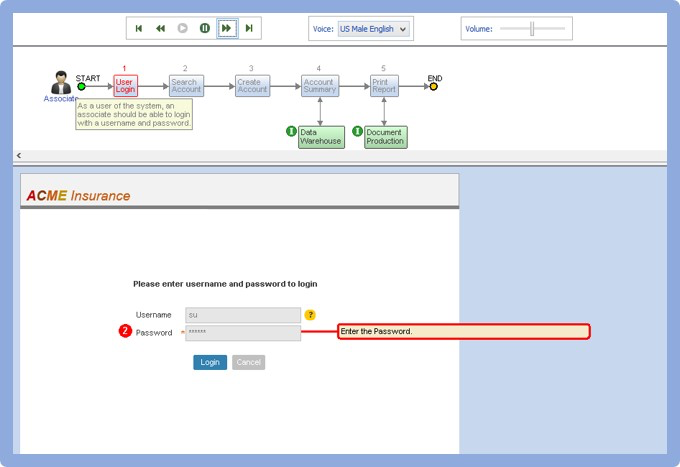 Improve how requirements are communicated and understood by your team.




Reduce re-work from poorly documented and ambiguous requirements.




Educate and train your staff, customers and partners on new product features.

Create a more fun working environment for your teams, improving employee engagement.



Manage the Agile Process Visually!
DreamCatcher helps you manage the Agile software development through visual project management that is driven directly from the product requirements and design. DreamCatcher can automatically generate and estimate the tasks, allowing your scrum masters to focus more managing delivery risk and less on manual, tedious tasks that do not add value. A visually driven Agile process makes it a snap for your team to locate items and update status on their tasks! DreamCatcher also provides fine-grained burndown charts down to individual task level details.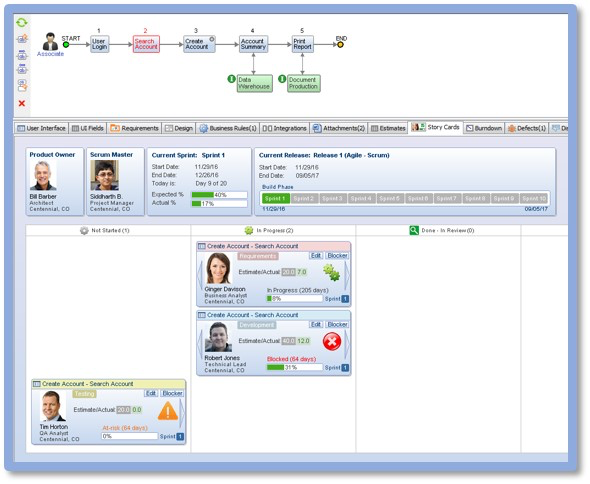 Automate the task generation process by using custom templates allowing to customize what tasks are created.




Automatically estimate tasks using a number of estimation methods, giving you increased efficiency, consistency, accuracy and transparency.

Create valuable fine-grained burndown charts down to individual task and user story level.




Manage your blockers visually and improve visibility.

Effectively manage your project with dynamic and rich project dashboards.



Manage Product Features Road Map Visually!
DreamCatcher helps you manage your Product Features (requested by sales teams, customers, employees, partners etc.) by visually depicting them against a timeline. You can prioritize and schedule feature requests and visually manage the road map. You can also plan effort estimates, duration and your resource capacity needs against the timeline using visual and interactive graphs.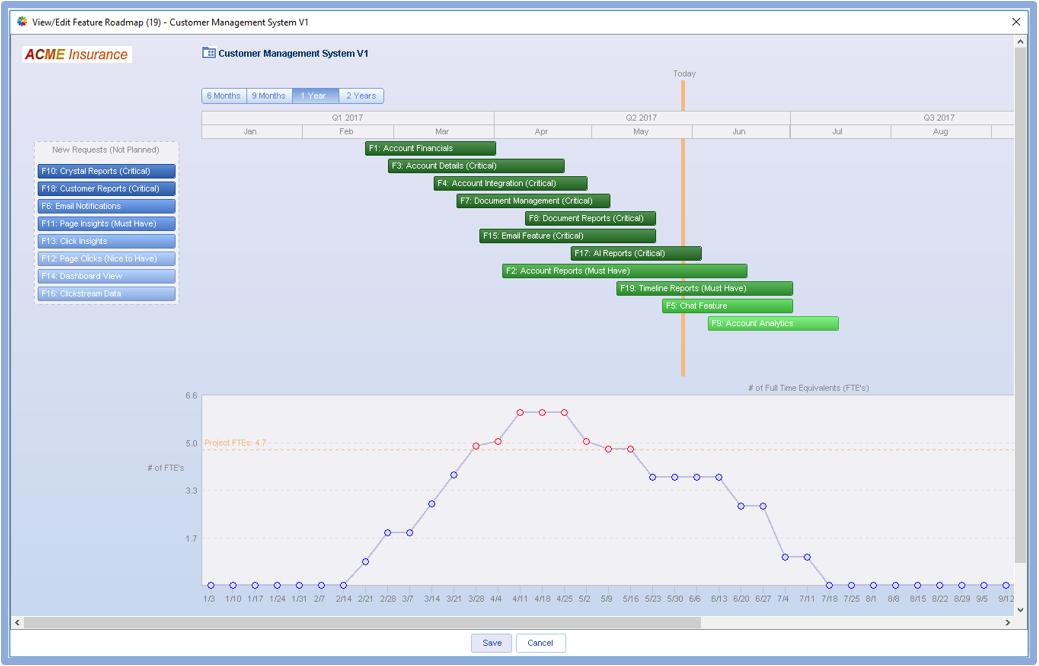 Manage your product features road map visually and improve visibility.




Prioritize and plan feature releases against your feature road map.

Visually manage your project resource needs with dynamic and interactive charts for resource leveling.



Improve Software Quality!
DreamCatcher automatically generates test cases from requirements and helps you manage defects "side-by-side" with the product requirements resulting in improved visibility and traceability. The innovative features of DreamCatcher allow you to visualize the defects overlaid on the UI requirements – a great way to improve visibility and reduce ambiguity!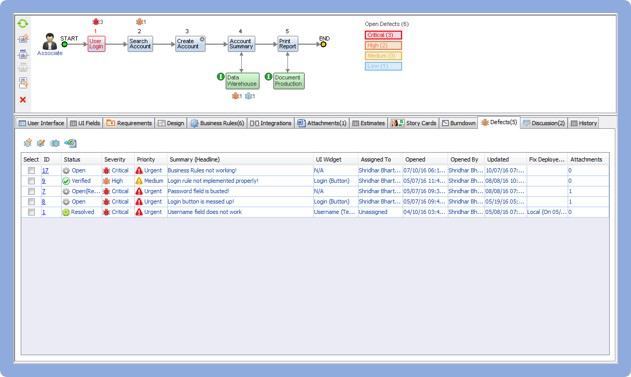 Automatically generate test cases from requirements (happy path, unit test cases and end-to-end test cases) saving significant amount of time for your test teams, while improving the accuracy and coverage of test cases.




Automatically generate Selenium Test Automation scripts from requirements saving significant time for your test teams.

Manage defects "side-by-side" with requirements, improving visibility and traceability.



How is DreamCatcher different from the other market offerings?
DreamCatcher offers a number of unique features not available in most of the competitive product offerings in the market. We offer a truly collaborative, integrated Agile suite with capabilities such as process visualization, high-fidelity mock ups, interactive UI widgets, extensive document export, automated test case generation to name just a few of the unique features. DreamCatcher's audio-video playback of User Stories is a truly unique and exciting feature that is sure to engage and enhance productivity of your Agile teams.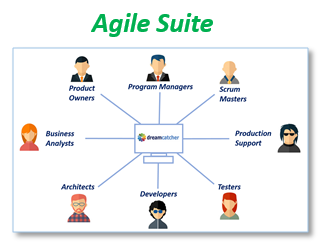 DreamCatcher is an integrated Agile suite that can be used concurrently by the entire Agile team. It is not a point product used just for creating UI mockups, like some of the competitive products. You can manage not only the UI requirements, but also Technical Design, Agile Project management, Defects and more.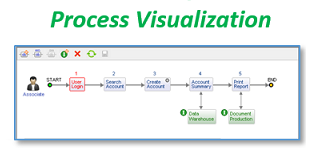 DreamCatcher helps your define Visual Process Flows associated with each of the Product Features. Each step of the process flow also has associated UI Mockup, Business Rules, Technical Design and more. You can also visually set up any Integration Points (APIs) with other applications and services.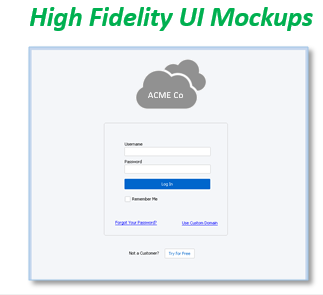 DreamCatcher lets you create High-Fidelity UI Mockups that remove ambiguity from your requirements. You can create a "look and feel" that is very close to your desired Look and Feel for your Product. This leaves very little room for mis-interpretation and uncertainty to creep in.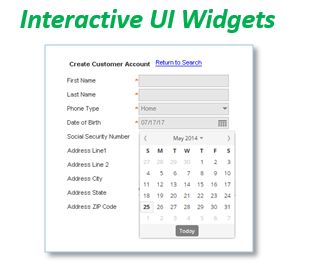 The UI Mockups contain Widgets that have some interactive capability. You can click on buttons to navigate to other pages. You can click on Drop downs to see the drop down values. Check Boxes and Radio Buttons can be clicked on to change selection state. This interactivity of the UI Widgets is an essential element of defining the desired User Experience and Look and Feel for your product. It helps you build the right product for your customers.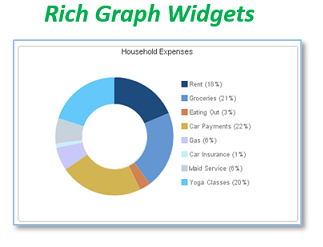 DreamCatcher supports Rich Graph Widgets (Bar Graphs, Pie Charts, Line Charts, Donut Charts) for defining UI Mockups that require Graphical Widgets, as is the case in many of the business applications built today that have rich requirements for Dashboards and Reports. These Graph Widgets can be fully customized to achieve the style and content desired.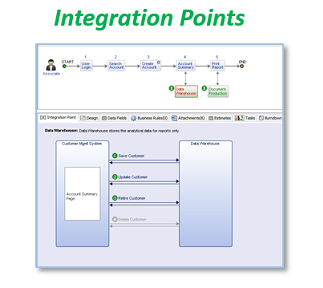 DreamCatcher allows you to document the design and requirements for Integration Points – how your Product talks to other applications or services using API's. You can also define the Business Rules and Data Fields associated with each of the Interfaces in these Integration Points.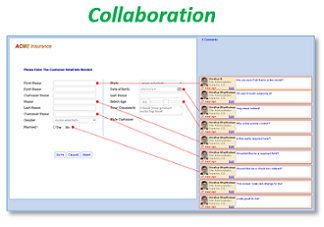 DreamCatcher has full support for team collaboration through discussion boards and user comments. Users can add associated comments for individual UI Widgets on the Mockups. Users can also post questions or comments and participate in team discussions. Sharing of ideas and concerns lets your team build a better product for the customer.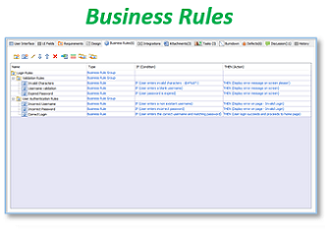 DreamCatcher supports documenting Business Rules using a structured approach (instead of using Excel documents). Business Rules are an important dimension of Business Application requirements and the ability to define and track them "side by side" with UI Requirements improves the business context and lets your define the business requirements with more clarity.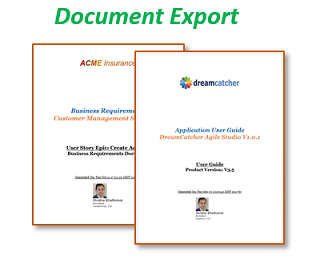 DreamCatcher can automatically generate the key documents for you such as the Business Requirements Document (BRD) or Design Documents. This saves a significant amount of time for your team and lets you focus on what matters most. Its a big win for Agile teams that don't want to spend a lot of time and effort on documenting requirements and design. You can also automatically generate a detailed Product User Guide – a feature that is sure to save you a lot of time and effort!
DreamCatcher is Intuitive and Easy to Use
DreamCatcher Agile Studio is completely visually driven – replacing Word and Excel documents. You define your product features as visual workflows, and your UI screens visually using easy to use tools. You also define Integration Points and Interfaces using a visual approach, making it easy for non-technical users to define these requirements. DreamCatcher is easy to navigate and use – reducing the learning curve for your Agile teams, and making your teams much more productive.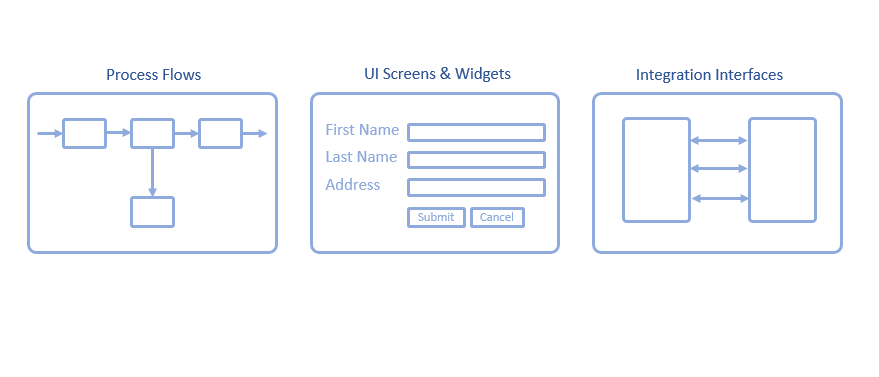 DreamCatcher is Collaborative
DreamCatcher Agile Studio enables the entire Agile team to communicate and collaborate on the product features. Multiple users can work concurrently on the same features – business analysts and product managers can define the product requirements visually (including process workflows, UI screens and widgets, business rules). Architects can define architectural design patterns and use them consistently in the product features. Developers and testers can view and understand the product requirements. Scrum Masters can manage the Agile project management. Production support can use the Customer Issues portal to manage customer field issues. Team members can participate in discussions around the product features and design. DreamCatcher automatically generates Email notifications so you are always in the loop.
Audio-video playback of User Stories is a great way to improve collaboration between the business and engineering teams, as well as between remote and distributed teams. This encourages sharing of ideas and enables innovation.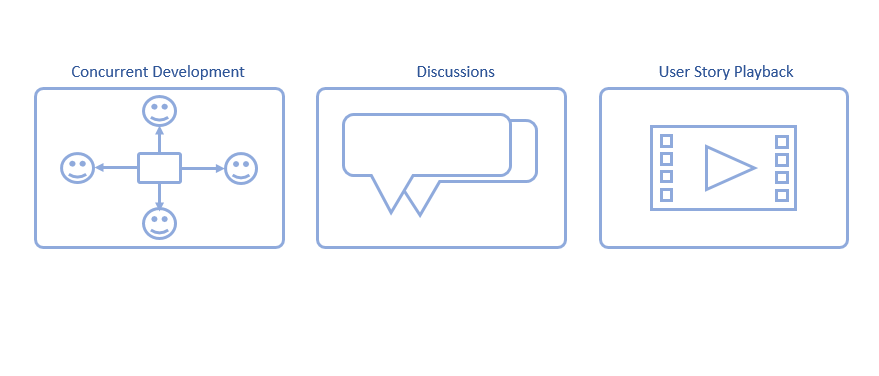 DreamCatcher is Automated
DreamCatcher Agile Studio helps you increase your team efficiency through a number of automated activities. You can automatically generate requirements documents and design documents using DreamCatcher – this is a great time saver for Business Analysts, Product Managers and Developers. Not only does this save time, it also improves the accuracy of these documents. You can also automatically generate Test Cases from requirements – saving significant time for the test team. The time savings from DreamCatcher's automation is a major contributor for a good ROI on your investment in Agile software development. Automation allows your Agile teams to focus on higher value added activities – activities that lead to improved product features and innovation.
DreamCatcher will also automatically generate tasks from requirements – a tremendous time saver for scrum masters. DreamCatcher can also automatically estimate tasks from requirements – using a number of estimation methods that you can choose from. This is not only a great time saver, but it also improves the consistency and accuracy of estimates.